Send Inquiry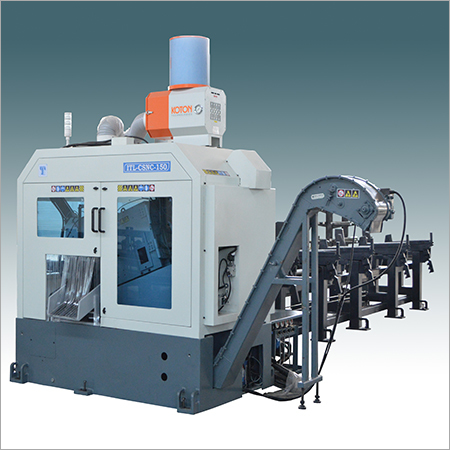 Trade Information
50 Unit Per Month

2-12 Week
Product Description
The Circular Saw Machine is a mechanical tool, suited for various DIY jobs. It is made to cut large pieces of wood, plastic, concrete, metals etc. The machine is utilized for making both curvilinear as well as straight cuts. Circular Saw Machine is a favorite choice of DIY professionals and enthusiasts, on account of its high sawing capacity and boosted precision. Circular Saw Machine is popular as an effective tool, featured with round blades of sharp metal teeth. The cuts it make is really very smooth. In addition, it features a handle as well as guard that are vital to safety purposes. Based on the application, it is suitable for small jobs to large construction locations. ITL Industries manufactures and supplies this economical cutting solution in affordable prices.


Other Products in 'Circular Sawing Machine' category
ITL Industries Ltd. is always accessible to you. Our representatives are based in US, Germany, ITALY & all across India.
CONTACT PERSONS AT H.O
Mr. S. B. Naik (President ITL): +91-9300091248
Mr. M. Imran Qureshi (DGM - Mkt): +91-9300091251
Mr. J. K. Rai (Sr. Manager - Mkt): +91-9300024255
Mr. Avinash Joshi (Sr. Manager - Mkt): +91-9098092272
Mr. Praveen Bhuch (Sr. Mgr Blade Div.): +91-9329499400
Mr. Siddharth Khandelwal (TPMM Div.): +91-9300046840
Contact us (Head Office)
ITL Industries Ltd.-Head Office
111, Sector B, Sanwer Road,
Industrial Area, Indore - 452015 INDIA
Phone : 91 (0731) 3044400 - 409
Mktg & Sales : 91 (0731) 3044412 - 416
Blade Div : 91 (0731) 3044430 - 431
Fax : 91 (0731) 2722372, 2721110
E-mail:info@itl.co.in, itlmarketing@itl.co.in
Web site: www.itl.co.in
Contact us (Head Office)
City Office
Indtools Sales & Services (City Office)
16 Bima Nagar, near Anand Bazar Square,
Indore - 452018 INDIA
Phone: 91 (0731) 2497511-13,
TeleFax: 91 (0731) 2497514
E-mail: indtools@itl.co.in
Web site: www.itl.co.in
City

Contact Person

Mobile No.

AHMEDABAD

Mr. Nitesh Verma

09301912133

AURANGABAD

Mr. Hemant Bisen

07879844477

BANGALORE

Mr. K. H. Raghavendra

09342435929

CHENNAI

Mr. C. R. Vijay

09380016444

COIMBATORE

Mr. C. R. Vijay

Mr. Krishna Moorthy

09380016444

9300046840

HYDERABAD

Mr. Naresh Kumar

09849022567

HYDERABAD

Mr. Niranjan Ojha

09533841516

JAIPUR

Mr. Ashok

09300074248

KOLKATA

Mr. Sanjib Kumar Shee

08927413300

KOLHAPUR

Mr. Pravin Yadav

09021116852

LUDHIANA

Mr. Vinod Dubey

09357359645

MUMBAI

Mr. Hrishikesh S. Salvi

09820933532

NAGPUR

Mr. Piyush Hirudkar

09300074211

NEW DELHI

Mr. N. Chakraborty

09810345260

PUNE

Mr. Vijay Madival
Mr. Prafull Landekar

09325007942
09300091276

SECUNDERABAD

Mr. Naresh Kumar
Mr. Niranjan Ojha

09849022567
09533841516

CHHATTISGARH

Mr. Asad Qureshi

07879832910

DELHI / NCR

Mr. Chiradeep Sen Gupta

09098888439