Send Inquiry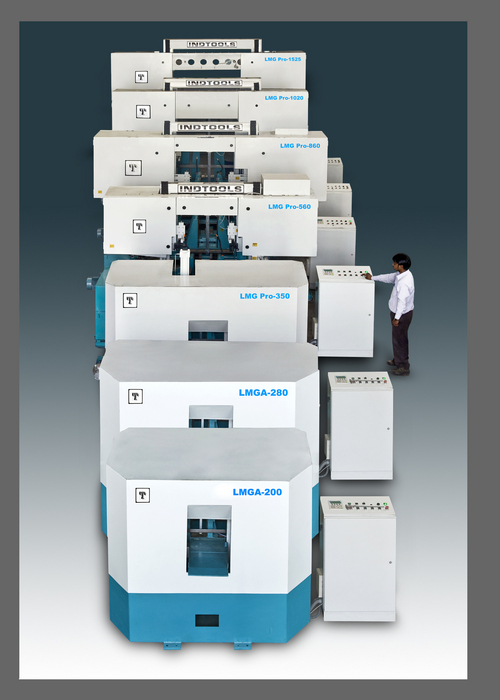 Trade Information
50 Unit Per Month

2-12 Week
Product Description
Twin Column Bandsaw Machine
ITL Pioneer & Trendsetter in Metal Cutting in has Designed & Developed State of the Art features to make "Metal cutting faster at reduce per cut cost & improve service capabilities and create new revenue for customers". Let's take a look at the special features of the newly-designed Linear Motion Guides.
Twin Column Bandsaw Machine

Anti friction LMG guides (Linear Motion Bearings)* for smooth up-down movements of the cutting head resulting in high blade life and perfect cutting performance
Electronic Automatic feed regulation mechanism* to adjust feed without operator involvement depending upon material composition, hardness and cross section
Floating shuttle vice * guided in dovetail slides for self alignment depending upon work piece straightness or surface roughness. Bar stock slides on main vice without any resistance as shuttle vice adjusts automatically
Wider shuttle vice helps better gripping of bar stock while indexing
High pressure coolant jets are provided for achieving high cutting rates. A compact and beautifully designed steel enclosure is provided to prevent coolant splashing and spillage, thus saving the wastage of cutting oil
Blade size & cost much lower as compared to other make of similar capacity machines
Auto cycle sequencing with PLC
Piece Counter & Length Multiplier through PLC
Infinitely variable blade speed from control panel through variable frequency drive for optimum productivity & Tool life
Floating Shuttle Vice for forged & uneven surface bars
Electrically driven Swarf Conveyor with Container
Hydraulic Band Tensioning Arrangement with continuous stretching of Blade during Cutting for Taper Free Cuts
Length setting arrangement with 01 mm least count through Digital Indicator
Other Products in 'Bandsaw Machine' category
ITL Industries Ltd. is always accessible to you. Our representatives are based in US, Germany, ITALY & all across India.
CONTACT PERSONS AT H.O
Mr. S. B. Naik (President ITL): +91-9300091248
Mr. M. Imran Qureshi (DGM - Mkt): +91-9300091251
Mr. J. K. Rai (Sr. Manager - Mkt): +91-9300024255
Mr. Avinash Joshi (Sr. Manager - Mkt): +91-9098092272
Mr. Praveen Bhuch (Sr. Mgr Blade Div.): +91-9329499400
Contact us (Head Office)
ITL Industries Ltd.-Head Office
111, Sector B, Sanwer Road,
Industrial Area, Indore - 452015 INDIA
Phone : 91 (0731) 3044400 - 409
Mktg & Sales : 91 (0731) 3044412 - 416
Blade Div : 91 (0731) 3044430 - 431
Fax : 91 (0731) 2722372, 2721110
E-mail:info@itl.co.in, itlmarketing@itl.co.in
Web site: www.itl.co.in
Contact us (Head Office)
City Office
Indtools Sales & Services (City Office)
16 Bima Nagar, near Anand Bazar Square,
Indore - 452018 INDIA
Phone: 91 (0731) 2497511-13,
TeleFax: 91 (0731) 2497514

E-mail: indtools@itl.co.in

Website: www.itl.co.in


City
Contact Person
Mobile No
AHMEDABAD
Mr. Nitesh Verma

09301912133

AURANGABAD

Mr. Hemant Bisen

07879844477

BANGALORE

Mr. K. H. Raghavendra

09342435929

CHENNAI

Mr. C. R. Vijay

09380016444

COIMBATORE

Mr. C. R. Vijay

09380016444

Mr. Krishna Moorthy

09300046840

HYDERABAD

Mr. Naresh Kumar

09849022567

HYDERABAD

Mr. Niranjan Ojha

09533841516

JAIPUR

Mr. Ashok

09300074248

KOLKATA

Mr. Sanjib Kumar Shee

08927413300

KOLHAPUR

Mr. Pravin Yadav

09021116852

LUDHIANA

Mr. Vinod Dubey

09357359645

MUMBAI

Mr. Hrishikesh S. Salvi

09820933532

NAGPUR

Mr. Piyush Hirudkar

09300074211

NEW DELHI

Mr. N. Chakraborty

09810345260

PUNE

Mr. Vijay Madival

09325007942

Mr. Prafull Landekar

09300091276

SECUNDERABAD

Mr. Naresh Kumar

09849022567

Mr. Niranjan Ojha

09533841516

CHHATTISGARH

Mr. Asad Qureshi

07879832910

DELHI / NCR

Mr. Chiradeep Sen Gupta

09098888439